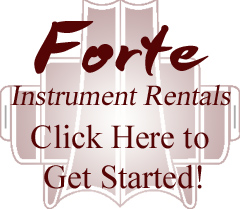 The Forte Experience Includes...
Superior Quality Instruments with Professional Setup
Flexible and Convenient Service - We Deliver to YOUR School
Flexible Monthly Rental Program with Purchase Options
Comprehensive Protection Plan and Maintenance
Over 30 Years of Serving Customers Just Like You!

Forte Instruments
Lisle Violin Shop offers a wide variety of instruments available for rent to meet the needs of students at all skill levels. Our selection for rental is unmatched in quality and price. We constantly search for additional models that pass our rigorous standards for tone quality and workmanship. Violins, violas, cellos, and double basses are available for rental. All rentals include appropriate bows, cases or covers, and rosin.
Instrument Sizing
String instruments come in fractional sizes to meet the needs of children who are still growing. If your child has yet to reach adult heights, it is very important to obtain the correct size instrument. Many beginners will struggle on instruments that are too large, and this may lead to posture problems. Since the size is not dependent on age or height it is necessary to see the child in order to size him or her. For most parents with children participating in school programs, the orchestra teacher can size your child to the appropriate instrument. Or if you are able to make a trip to one of our shops, our knowledgeable staff will be more than happy to assist you with sizing.
Rental Credit
Lisle Violin Shop's rental program allows 100% of accumulated credit (minus taxes and Protection Plan fees) to be used towards a maximum of 80% of the purchase price of the current rental outfit or another larger or more expensive instrument outfit. Our program provides the flexibility young musicians need because it allows them to upgrade size or quality as they grow and progress.
Protection Plan
Lisle Violin Shop's Instrument Protection Plan is included in the price of every rental. We will maintain your instrument, bow, and case in excellent playing condition. Our Protection Plan includes free string replacement, as well as replacement or repair for accidental damage, theft, fire, or flood. Please see our Protection Plan Terms and Conditions for full coverage details.
Rental Payments
Monthly rental payments are deducted from a major credit or debit card automatically between the 10th and 30th of each month for that month's payment. For those who prefer to receive a monthly statement, we require a refundable deposit of $50.00 for violin and viola rentals or $100.00 for cello and bass rentals. Monthly payments in the form of a check or money order can be mailed in the envelope provided with your statement. You may call one of our locations or login to your account to pay with Visa, Mastercard, Discover or American Express. Please login here to make a rental payment online.
Supplies
When renting or purchasing an instrument for the first time, some supplies are essential to have to ensure the player's success. Most teachers will have a list of supplies to go along with the instrument outfit. The most commonly requested items are a shoulder rest (for violins and violas) or an endpin rest (for cellos or basses), a music stand, music books, and metronome/tuners. If you are unsure of what supplies you will need, please consult your teacher or one of our knowledgeable staff members to help you select the correct items for your instrument.
Order Online
To place your order online, please click here. If you wish to speak to a representative and place your order by phone, please call one of our locations.
Size Exchanges and Step Ups
Please call one of our locations to request a change in size or quality for your rental. We recommend calling in advance for any size exchange or instrument upgrade to expedite the process especially for larger instruments which often need to be ordered. Instruments ordered over the phone can be picked up at any one of our locations or delivered to any school in our service area free of charge during the school year.
Early Reservations
Parents of students entering orchestra programs in the fall can place their instrument and supply orders for the upcoming school year as early as March. At Lisle Violin Shop, we encourage ordering as early as possible to ensure the best selection-instrument rentals are available on a first come, first serve basis. Ordering in the spring and summer will save you time, and also eliminates long lines and waiting periods in the fall. The first rental payment for the month of September, and payment for any additional supplies will be processed at the time your order is placed. Your child's instrument outfit, along with any additional supplies you have ordered, will be delivered to the orchestra director in the fall. For more information, or to place an order, please click here. You may also call either one of our locations to place your rental order by phone.
School Deliveries
Lisle Violin Shop representatives service over 25 public school districts in the Greater Houston and surrounding areas, in addition to a number of private schools and studios. Our expanded service area includes frequent service to Beaumont, Belton, Brazosport, Bryan, College Station, Hays Consolidated ISD, Kilgore, Killeen, Longview, Manor, Marshall, Midway, Nacogdoches, Temple, Tyler, Waco, and the Greater Austin area. New orders, larger size instruments, or supplies our customers need can be arranged for drop off at school to your child's orchestra director. We are also able to pickup instruments which need repairs and provide you with a complimentary loaner instrument while we complete your repair in a timely fashion. To make arrangements for delivery services, please call one of our locations or email us.
Returning a Rental
Lisle Violin Shop's rental program is month to month, so you may return your rental at any time. Please call us to request a return authorization and confirmation code if you wish to have the instrument picked up at a school our shop regularly services. You may also return the instrument to any one of our shops. Violins and violas can be shipped via UPS, FedEx, or USPS-please call us for additional information regarding packaging and insurance. Upon receiving your instrument, any balance due is immediately payable. If your instrument is returned before the 10th of the month, the balance for the month will be removed. Any rental credit accumulated towards purchase will be forfeited 10 days after the rental has been terminated if a purchase option is not elected.
Additional Rental Information
Protection Plan Terms and Conditions

Rental Contract with Rental Agreement Terms